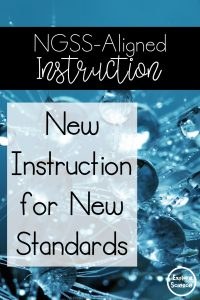 So far, we have reviewed how implementing the NGSS requires a shift in mindset and content.  We are going to move into the changes to instruction in this post, but if you missed the last two, check them out here:
NGSS: Starting With The Three Dimensions
NGSS: Aligning Your Science Content to the Standards
The last big shift we are going to discuss is the change required in your teaching strategies.
We need to transform our instructional practices so that we are truly engaging our students in science – DOING SCIENCE — and also in engineering. One shift with the NGSS is to truly integrate the science practices into the curriculum. We're not teaching the "scientific method" as a standalone unit or just when we're doing labs, we're embedding those skills into all of our activities.  
Instruction In An NGSS Classroom
In an NGSS-aligned classroom, instruction is student-centered.  That's not to say all student-centered instruction is automatically NGSS-aligned, though.  In an NGSS-aligned unit, students are presented with phenomena — big, puzzling events or processes — by the teacher, but then they are intellectually engaged in discovering how that phenomena works and why it occurs.  They discover this information themselves.  Teachers do not provide the explanation — students arrive at it through investigations where they apply science and engineering practices.  Those investigations lead to understandings, which lead back to the phenomena they are trying to explain. This is all part of the storyline process.  Storylines guide students through this flow of instruction – from phenomena to investigation to aha! and back to phenomena.  The cycle essentially repeats itself, building on student understanding over time, until students are able to fully explain the initial puzzling "thing" — that anchoring phenomena. This cycle is also very unlike traditional teaching methods.  Traditionally, teachers taught science by providing facts, explanations of concepts, and vocabulary, and then students participated in activities to confirm those facts and explanations.  Vocabulary instruction often preceded the unit actvities entirely, and students were involved in very little sense-making. In an NGSS-aligned classroom, all of this is flipped.  Students are providing with the learning opportunities with very little, if any, explanation given.  Students explain what they observe or understand in their own language — without initially addressing scientific terminology or labels.  Students participate in more explorations that help them confirm or disprove their current understanding, building an accurate conceptual model* over time. The teacher's role is to guide students through this process.  We can help them identify misconceptions by asking questions or making observations.  When they have arrived at an explanation they are confident in and are looking for the scientific terminology to explain it, we can provide that vocabulary.  But we do it only when it's necessary, only when students are ready for it.  That is a student-centered, NGSS-aligned classroom.  Students learn science by doing science.  *A conceptual model is a way of thinking about something.  It is not a three-dimensional art project or even a picture on paper. It is how students understand or explain a phenomenon in their own mind.  
Plus Engineering
The science practices are not the only  shift in instruction in an NGSS-aligned classroom. The role of engineering in science is often missed during this transition, but it is likewise an important part of an NGSS-aligned instructional unit.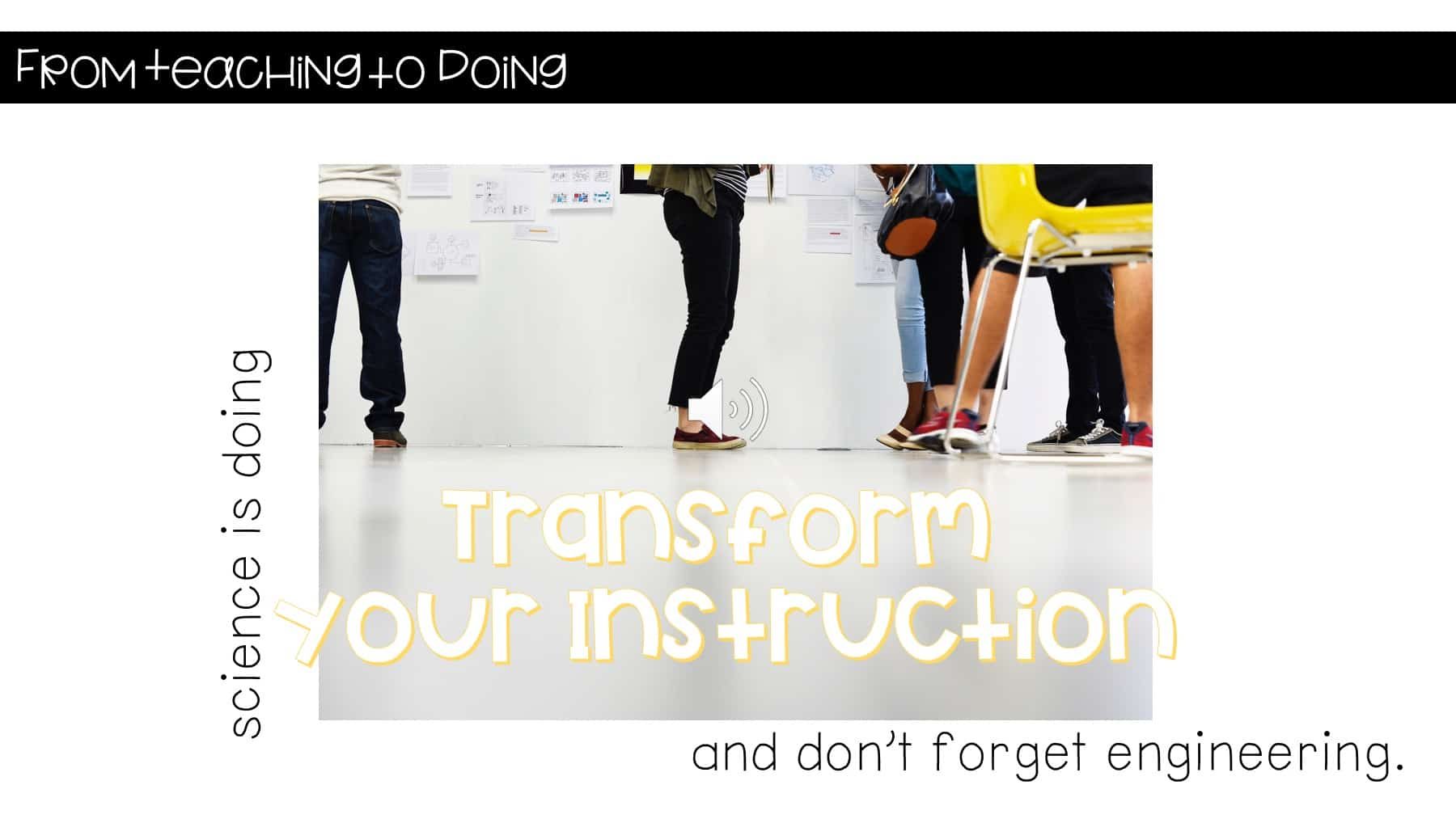 Engineering instruction has so many benefits.  It adds authenticity by engaging students with real-world problems, improving motivation and achievement.  It develops 21st century skills — from perseverance to teamwork to the thinking necessary to solve problems — which our students will need to face the challenges of life after school.  And lastly, we need it, because it is our scientists and engineers who can help our society address important issues like food security, clean water, energy needs, and disease control.
If we start out students on this path early, we can increase both the numbers of students who pursue science and engineering careers, and the caliber of those future scientists and engineers. I have already spent some time discussing engineering here, so I'll direct you back to those posts at this point.
Engineering: Why You Should Be Teaching It
Teaching Engineering: What NOT To Do
Integrate Engineering: A How To Guide For Science Teachers  
Key Takeaway:

Shifting your instructional practice is that the NGSS is all about students doing science to learn science.
Looking For More?
If you are looking for additional trainings and resources on these topics –  teaching with the three dimensions, the SEPs, CCCs, engineering in the classroom and so on, you may be interested in the NGSS Your Science Class self-paced course, starting this fall.  You can try out the first class free here by joining the Science Teacher Tribe as a FREE MEMBER.
Remember, adopting a Next Generation state of mind takes time. It's going to take some serious shifts in our understanding of science as a discipline and its three dimensions, the content of our classrooms, and the strategies we employ during instruction.
Today, I covered the third step — making some big changes to the way we think about teaching science.  If you'd like to see the video workshop these last three posts were based on, you can watch the entire workshop here.