It has nearly been 2.5 years since I have been in the classroom.  I started my maternity leave with my second child in June of 2017 and soon after started providing professional development to teachers across the country through iExploreScience and the iExplore Academy (originally dubbed the Science Teacher Tribe Course + Community).  Although I haven't been IN the classroom, I haven't exactly left it either. I've maintained my connections with both past colleagues and also new collaborators.
And that's what I want to bring up today — you can't really P-D (professionally develop) alone.
I have bounced between positions where I was very much isolated — the only science teacher in the grade or even the grade band — to positions where I was co-planning regularly with two or three others who taught the same course.  
And you know what I found? 
My greatest professional development occurred when I worked with others.  As a part of a team, I found myself learning from the ideas of others, motivated to try new things, and benefiting from a "sounding board" when I felt stuck or frustrated.  Having a science community behind me gave me confidence. I could run an idea past a colleague, get some extra tips or insights, and troubleshoot when things went wrong. Likewise, I had the benefit of a "hive mind" at times — to offer new ideas or instructional approaches, something new that someone read here or there.  Being a part of that community made me a better teacher.
But that has got me thinking – what do you do when you DON'T have that community readily available? I was in that position once when I was still IN the classroom, and in many ways, I am in that position now as I spend much of my work time on the 9th floor of an office building. I don't have teachers down the hall to bounce ideas off of or peek in and observe. So what do you do?
Create Your Science Community
Here are a few ideas to help you CREATE a science community so you don't have to P-D alone (because again, it just doesn't work!)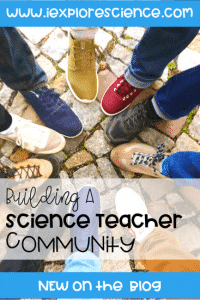 1. Join a science teaching organization.
So in my case, I have always been a fan of the National Science Teaching Association.  I joined as a brand new teacher, and I have maintained my membership ever since. When I WAS in that isolated teaching position, the NSTA was my community. I attended the conferences I could – regional and national, I read every Science Scope and newsletter they sent out, and I utilized their resource library to beef up my science content and discover new instructional strategies. I joined the list-serv and communicated with other members who were just like me — looking for community.
In addition to the NSTA, I also joined my local state organization.  While it isn't as active as the national organization (although some states may be more active than others), I still felt there was value in connecting with educators in my own state.  My state organization kept me "in the know" when it came to local training or workshops, and now, it has given me an opportunity to take on leadership roles as a member of the board. (Fingers crossed for the adoption of the NGSS here in Pennsylvania!) 
I highly recommend doling out the money to join a teaching organization.  Find one that best fits YOUR needs. Maybe it's an organization that focuses on middle school instruction, or maybe just on chemistry, or maybe on technology. Whatever it is that is of interest to you and would benefit your own professional development. But seriously, join something. it's worth it.
2. Connect with educators online.
So I have mixed feelings about online connections. Obviously, interactions online are not the same as coffee with a friend or even a telephone call.  That said, there are several individuals that I have met solely through the web — via social media like Facebook, Instagram, our blogs, so on and so forth — that I would both consider colleagues and friends.  We talk about our kids, about fashion and sweater weather, AND about that science stuff that initially brought us together.  
They are my sounding board. We celebrate each other's wins. We vent. We support and share each other's work.  We might not be able to meet up for coffee now, but I would certainly consider them someone I would like to meet up with someday.  
In the same way, you can create a community online. While the "in and out" interactions on Instagram and Facebook might not replace the "colleague down the hall" kind of feel, it IS possible to take it further.  That's what I did. Through one interaction at a time, I got to know these amazing educators, and now they are who I reach out to when I have a science question or am looking for feedback.
So check out some of those meeting places — the Facebook groups (like NGSS for Middle and High School Science Teachers) or Instagram — and when you find someone who shares your approaches or beliefs or someone you could see yourself learning from, or simply wanting to know… reach out! It's a little scary at first (again, been there!), but it was SO worth it. I love the community I have created.
3. Join the iExplore Academy.
If you're a little nervous about connecting on your own, if you're struggling to find others who share your dedication to adopting an NGSS-style, or if you just want someone to walk you through it all and really help you P-D, check out OUR community – iExplore Academy.
I created the Explore To Aha! course when it became apparent to me that teachers needed more in the way of professional development as their states, districts, and schools adopted the NGSS. Teachers were given new standards with very little instruction on how to actually implement them, and it was causing a TON of misunderstandings, confusion, and frustration. Because the NGSS is literally about TEACHING DIFFERENTLY, teachers were just lost.  No one was telling them what "teaching differently" actually meant. And thus, the course was born.
But I also realized that community is everything.  We NEED community. We are literally social beings — mammals designed (or evolved or whatever you want to say!) to exist with others.  Doing it alone just… sucks.
So we added that community focus, as well. In addition to the actual course workshops and some lesson planning resources, we also have our private Facebook community and group meetings where you can get your questions answered cheer and vent, and just feel connected and motivated.
Enrollment for the iExplore Academy is currently open, but it will close for the spring semester on Friday, January 7, 2020.  Grab a seat in our program – and reap the benefits of our community – as you kick off 2020! Learn more about the iExplore Academy here.